Photos
Poems
Illustrations
Our PBY

The PV-Battle Cry

Sweetheart's

We Live On

High Flight
Our PBY
You know we couldn't do without
Any unit of our fleet
For, lacking it, there is no doubt
We would be incomplete.
So, as you read this verse of mine
Don't think it is my aim
In praising the plane I think so fine
To try to put others to shame.
The plane I wish to speak of here
Has earned its right to fly.
You know of it, I have no fear -
'Tis the lumbering PBY.
They've cast shadows on many an ocean,
And landed in many a bay.
They're around when there's commotion
Any hour -- night or day.
And there's many a water soaked pilot,
And sailor in a raft
Who's thanked God for his deliverance
Of this seemingly heaven-sent craft,
They've chalked up quite a battle score,
And earned their share of praise.
And day by day go out for more
In their numerous useful ways.
They've taken their share of our fighting men
As they went down in defeat.
But they're always back with the will to win
When the enemy they meet.
You've heard them called by a different name
Depending on their use.
At night the "Black Cat" won its fame
In the daytime 'twas "blue Goose".
So when we speak of deeds well done
By our prowlers of the sky,
Let's not forget a certain one -
That grand old PBY.
Poem by Ken Bynum, May 19, 1945 (CARM VPB-52)
The PV-Battle Cry
I'm just another joker,

that's gotta fly a Yoker.
I'll never be a hero,
or shoot down any zeroes.
Ya' can't have any pride,
if ya' fly a PBY.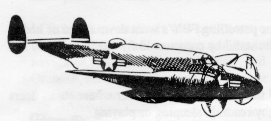 Now the ones y'oughta see,
always fly a hot P-V.
Their engines never (?) clamor,
ya' can't beat them for glamour.
They look at us and cry,
"Where's yer crummy PBY?"
But, let an engine pull a "smoker",
and they'll holler, "Send a Yoker",
everytime.
The Yokers have no zip.
But the P-V! It's a pip.
The boys that get the DFC,
always ride a new P-V.
But, before they'll get to wear it,
everytime, yes, I'll swear it.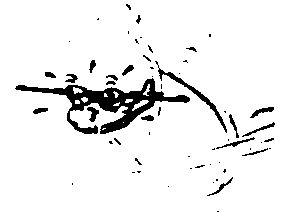 They'll call for the joker
that has to push the Yoker.
'Cuz, when Tojo gets to shootin',
and the P-Vs get to scootin',
And one engine starts to split,
to the radio they'll flit,
Screamin', "Send a Yoker"
There ain't no use of lyin',
'cuz when it comes to flyin'
The Ventura has the stuff
and the P-Boat's just too rough.
But, when it comes to livin',


and we ain't just a-fibbin',
Everyone has got the
yearnin',
to their base to be
returnin'.
But, the flak has made
some holes
and it's blowin' in the cold.
"Did that starboard engine miss?"
you can hear the pilot hiss.
All the faces then turn gray,
and in unison they'll say....
"SEND A YOKER!"
Written especially for Jim Moorehead by J.J. Lynch; alias, J. Oker (Dec., 1944 or Jan., 1945)(Flying the EMPIRE EXPRESS to Paramushiro) This poem was submitted by Charles "Fitz" Fitzpatrick (VPB-136). It reflects the friendly bantering and needling found between different types of aircraft crews. "Fitz" was a Navy pilot flying P-Vs with Jim Moorehead as his Patrol Plane Commander. Before flying with Moorehead, he and Jim Lynch flew PBYs until they were transferred to San Diego. There they were separated when Fitz went to FAW 4 (VPB-136, Whidby Island) and began flying P-Vs. Jim Lynch went to Headquarters Squadron on Attu, in the Aleutians, where he continued to fly PBYs. They were reunited in the Aleutians. Fitz said the following: "If my memory serves me correctly, Jim Moorehead always got in the last word. Thus to settle the matter, Jim Lynch wrote his poem dedicating it to Jim Moorehead."

(Editor's note: There has always been a friendly competition between the fighter and bomber crews and the PBY crews about which aircraft was the best. However, it has been made clear to me, by all combat aircraft crews, that when they were in the water, waiting for rescue, the only aircraft engines they wanted to was that of a PBY, and, the only aircraft they wanted to in the sky was a PBY. At that time, there was no question, in anyone's mind, as to what aircraft was the best and most important.)

ALJ
Sweetheart's
May 18, 1943
To Rae,
To the tune "Sweetheart's of Strangers"
My sweeheart's blues will change her,
For no one else but me.
Don't you weep don't you moan,
For I'll soon be coming home.
I'm hurrying over this deep blue sea.
Tho we are miles apart,
You're always in my heart.
Sweetheart, that's why you think of me.
This life is lonely,
Those fears you can't hide
But when this is over
You'll fill my heart with pride.
Lt(jg) L.H. (Snuffy) Wagoner USN
Bombing Squadron 101

We Live On

To Rae

"We Live On"

Oh! It was early; So very, very early in the morn.
I heard those engines roar,
As I dashed through the door.
To live on

Then I see her there,
The queen of the air.
Without a single care,
Waiting to live on, live on.

As upward we scream
To a battle it does seem
Or better as a dream
We'll live on.

Now we are so high
That we're frozen in the sky
Can't stop to wonder why.
Just live on.

There they are so bold
That it makes our blood run cold
Now we've got what they have sold
And lived on.

So back to earth we gassed
Things have happened very fast
And we'll fly them to the last
So that America will live on and on and on...

Ensign L. H. (Snuffy) Wagoner
Patrol Squadron 51
HIGH FLIGHT
"Oh, I have slipped the surly bonds of earth,
And danced the skies on laughter-silvered wings;
Sunward I've climbed and joined the tumbling mirth of sun-split clouds -
and done a hundred things You have not dreamed of -
wheeled and soared and swung high in the sunlit silence.
Hovering there I've chased the shouting wind along
and flung my eager craft through footless halls of air.
"Up, up the long delirious burning blue
I've topped the wind-swept heights with easy grace,
where never lark, or even eagle, flew;
and, while with silent, lifting mind I've trod
the high untrespassed sanctity of space,
put out my hand and touched the face of God."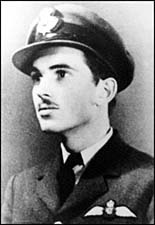 High Flight was composed by Pilot Officer John Gillespie Magee, Jr., an American serving with the Royal Canadian Air Force. He was born in Shanghai, China in 1922, the son of missionary parents, Reverend and Mrs. John Gillespie Magee; his father was an American and his mother was originally a British citizen.

He came to the U.S. in 1939 and earned a scholarship to Yale, but in September 1940 he enlisted in the RCAF and was graduated as a pilot. He was sent to England for combat duty in July 1941.
In August or September 1941, Pilot Officer Magee composed High Flight and sent a copy to his parents. Several months later, on December 11, 1941 his Spitfire collided with another plane over England and Magee, only 19 years of age, crashed to his death.
His remains are buried in the churchyard cemetery at Scopwick, Lincolnshire.


Videos


The PBY Catalina Foundation continues to support veterans and all those
who serve our country.

To help us continue our work, please offer your tax-deductable donation: CLICK HERE
Dec 7 - Pearl Harbor: We honor the anniversary of this life-changing
Day of Infamy.
Alive Today: TRT:2:30 In memory of the many stand-up soldiers of WW2, we give thanks for being, alive today.
We Salute Ray Dresser: TRT:1:56 A video salute to WW2 PBY pilot Ray Dresser, 95 years-old and still kickin'!
Never Forget: TRT: 1:02. History that is not remembered, is history that never happened.
Guardian Angel - The Movie (A Teaser): TRT: 1:03. This one minute clip teases us with some info and images about our future movie: Guardian Angel - The Movie
The Battle of Midway: TRT: 2:20. We learn in this untold story how dogged Ens. Bob Swan and a determined PBY crew managed, with a few gallons more, to discover the Japanese invasion fleet heading for Midway.
Memorial Service - Commander Leonard H. Wagoner, "Snuffy," USN: TRT: 4:33. A moving tribute to a Navy Cross decorated soldier - the man behind The Guardian Angel story.
Help us continue our work with a tax-deductable donation:
CLICK HERE
Saving Lives the Dumbo Way: TRT: 2:24.The PBY Catalina 5 was every inch a fighting machine but it had another grand purpose - saving lives.
Guardian Angel - The Movie:: TRT 3:32.As we continue to work towards making our movie a reality, this video tells you how you can join us.
Remembering 1st Lieut. Joaquin Castro: TRT:1:53. This WW2 vet with humble beginnings helped save many lives until his was threatened by a crash into the sea. It would have been his end except for the courageous crew of
The Guardian Angel. All for one, one for all.
To First Responders Everywhere: TRT: 2:28 We honor first responders and the heroic work the do, day after day, week after week. Simply, the best.
Nimitz Awards Guardian Angel Heros: TRT:1:13.One of the first Navy Cross ceremonies of WW2.
Standing with our French Family: TRT:1:41 The PBY Catalina Family created this video to show support and offer comfort to our French brothers and sisters attached by terrorists.