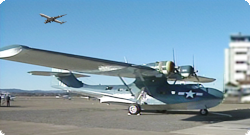 The PBY Catalina Foundation
is a registered nonprofit 501(c)3 corporation. The PBY Catalina Foundation is governed by a Board of Directors and assisted by an Advisory Committee.

President's Message:

Welcome to the PBY Catalina Foundation website.
To those who have come to us for the first time, please tour around the site. We hope that you enjoy what we have put together regarding the history of a great aircraft and her ground and flight crews. This is just the beginning of a new phase in the Foundation's history toward the goals set forth as a 501(c) (3).


For those who have returned after some years of absence, welcome home. Like the Phoenix, we are renewed to continue the mission of preserving the PBY Catalina's aircraft and history.

We plan to do this with the help and donations from ex-crew and the rescued. Their children and grandchildren will be of pivotal importance to aid us in the research from letters home, flight logs, diaries, and personal stories. We will also look to corporate funding, foundations, and other interested parties to support our various projects that still include MIA research and we are also planning a movie. Yes, a movie.


Tax deductible donations will be greeted with a "Thank You Gift" from the gift shop. As we move forward with our plans, we will develop other levels of donations and "Thank You Gifts" to support our expanding programs.


We cannot do this without your support. We will continue to expand our "Chronicles" with stories, poems, and cartoons supplied via our research and contributions from the PBY community. Remember: "History that is not remembered is history that never happened".

Allen L. James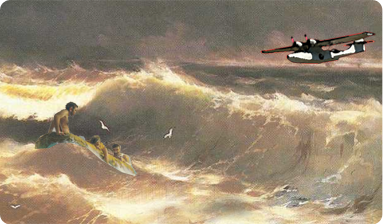 Guardian Angel - The Film


Low on the horizon,  a smoke flare streaks across the muddy sky. One of ours?  Or the enemy's?............
We have written a 30 minute film pilot script to be produced about one of the first heroic acts of WWII involving a young PBY crew. It's a exciting, dramatic story to be told; history to be remembered.

Short Synopsis:  Three weeks after the bombing of Pearl Harbor a young and untested PBY crew spot signal flares in the tumultuous sea waters below: two leaky rafts, nine stranded soldiers.

Headquarters says "Turn back!" - Too dangerous to attempt a rescue.

The crew thinks otherwise.

The Commander and his co-pilot must decide -- who lives, who dies.
Click here to go to Our Film section.