A Pilot's Story


Chapter One - Page 3

It was a judgment call at the beacon and there was no pull-up procedure once you had committed.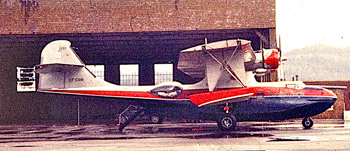 I did do one turnaround from far down the harbor and, being afraid of a stall turn, lowered the nose to descend in the turn. The poor F/O, not being aware of why we were descending at 1000 feet/min., voiced his objections but we managed the turn, skimming the water on the pull-up and completed the turn back to the beacon. On another occasion, the oil pressure decreased to 15 lbs. on the pull-up but the engine continued to run, leaking oil, till we returned to Sandspit. A plug had almost blown out, attached by the last few threads.

The wind came in gusts and the water landing technique was to time the touchdown between the gusts and as you touched the water, to rudder the aircraft downwind, wings level.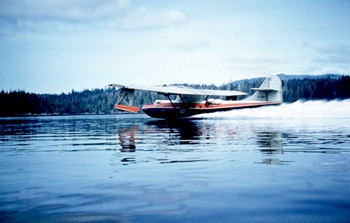 Done correctly it was smooth as silk; otherwise the nose tended to dig in and attempt to bury itself. You knew you were on the water as there would be a "click" in the earphones when the hull made contact with the water.

The other problem that arose was poor windshield wipers. There were two solutions. One was to open the side window and judge how high off the water you were (I never became proficient at that one), and the other was to get maintenance to apply five coats of rain repellant, which, when done properly, was excellent. Unfortunately this application wouldn't last too long and when the forecast was wrong, you wound up opening the side window because you hadn't prevailed on maintenance for the rain repellant application.