A Pilot's Story


Chapter Three - Page 1

Flights went along routinely and on the 4th of April the airplane had major overhaul and check, which gave us 12 days off. Coming back on the 16th, a new first officer joined us by the name of Denny Denman. He was small compared to the Aussie. The good news was I didn't have to deal with his wife. On the 23rd of April, due to a storm, we over-nighted in Sandspit. Coming back on the 24th, the storm had gone through and it was clear weather in Prince Rupert.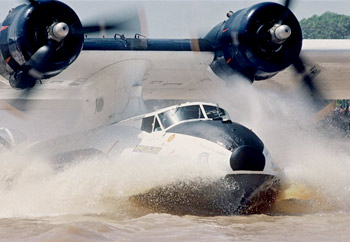 Now, the PBY was a super speedboat on the water and having a new stewardess on board, I invited her to poke her head up into the cockpit to experience going along at 60 m.p.h. on the water. We landed going out to the west and started a turn back to the hangar area where the crash boat was standing by (It met us for every flight). All of sudden, the nose started to dig in. In these situations, the first rule was to keep the wings level, which I managed to do. This was due to the PBY's floats at the ends of the wing. However, now a spout of water started coming out of an inspection hole between the F/O and myself. I thought, "My God, we've hit a log and torn a strip off the bottom. The damn crash boat is two miles down the harbor. I've got to see if I can get it closer to the boat to rescue the passengers. Pull back on the control wheel and open the engines wide open! Holy smoke, we're flying".

As we flew over the crash boat, talking to them on the radio, they let us know we had lost one of the nose wheel doors. Now what? We couldn't land on the water, as Sandspit has no maintenance facilities, so off to Terrace 72 miles away in the interior of British Columbia. Fortunately the weather was excellent. Well of course, we were getting all sorts of advice from the Vancouver Operations Center over the air.

Arriving at Terrace we put the gear out with the emergency system but the nose wheel didn't go down, so we landed on the mains and slowed down with the nose off as long as we could, then let it down to grind to a halt.

Next day we ferried the damaged PBY to Vancouver where it went through a big inspection and repair of the nose doors.

A hearing was held to see if we were at fault.