A Pilot's Story


Chapter Two - Page 3

I put full left brake on and opened the right engine wide open. The left wheel dug into the deep sand, the right engine swung the airplane around. The next thing I knew, we were at right angles to the runway at the very end, just off it to the right with the tail by the airport perimeter fence. The engines were ticking over and my heart was pounding but we are stopped.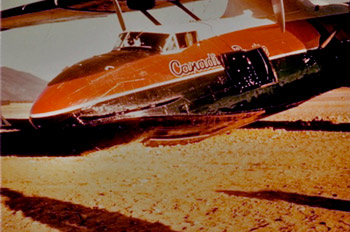 The stewardess came up to see if we were all right, pretty cool on her part. We shut the engines down and got out of the airplane. The left wheel was up to the hub in sand. I don't recall the details with the pregnant lady, but I believe the stewardess took care of her. So we dug CRR out and taxied to the ramp. The Vancouver-bound aircraft carried a flight engineer and he came over to assess the damage. After looking the airplane over he couldn't find any!!! So we went back to Prince Rupert.

I'd always thought I had a lucky star and sure enough she had kept shining. There is a sequel to this story. In the 1990s, I belonged to a tennis club in Vancouver. In chatting to one of my locker mates it turned out that it was "HIS WIFE" that was on the airplane. The baby was suspected of having a rare blood condition, so his mother was going to specialists Vancouver. That little baby is now a doctor on Les Iles de la Madeleine off the East coast of Canada.
Come back next Saturday for the final chapter in this continuing series!